Elsa Maria Thomas
Business Analyst
It has been two months since I joined Beinex, and within these two months, I have experienced how warm and welcoming Beinexians are. And when HR announced that there would be a Team Connect with all the employees and the team heads who had to fly in from Dubai, I was super excited and nervous as it would be the first time, I would get to meet everyone.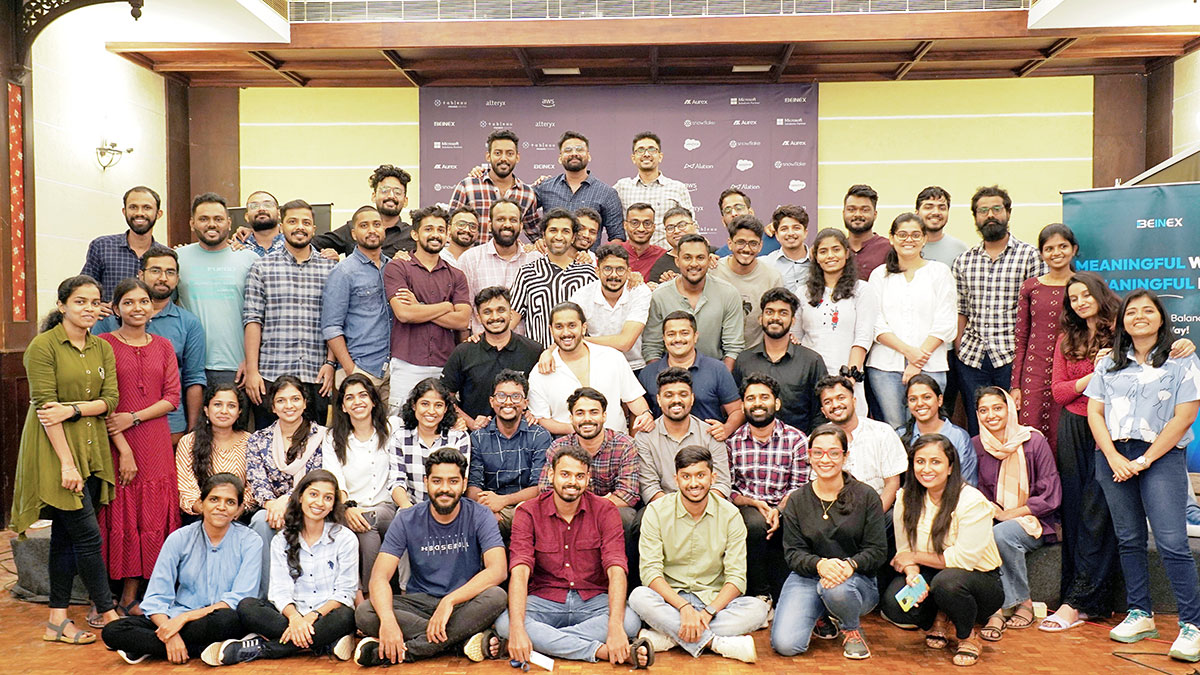 Reaching Kumarakom
The Team Connect – Datafy was arranged at the beautiful Lakesong Resort, which overlooks the serene Vembanad Lake. The air was fresh, and the lush green lawns and beautiful scenery calmed our minds and relaxed us. It was a paradise for people who loved photography or just taking selfies because each corner of the resort was picturesque.
Datafy – Interaction with Teammates
In the Beinexian world, formality takes a backseat! Our official Team Connect for Consulting unfolded in the splendid seminar hall of a resort, creating an atmosphere of excitement and camaraderie. Forget about stiff protocols; everyone, including the heads, embraced the present moment with joy and enthusiasm.
As I mentioned, there was no formality and everyone, including the leaders, was enjoying and just being in the present. There was a small self-introduction for all the new employees, and the respective team heads delivered the success stories of Beinex. We do not believe in boring people with just speeches; to lighten the mood, our very own team heads arranged two games. Last but not least, our director, ID, gave us a motivational speech which gave us a boost to feel confident and to strive for excellence with passion.
Abhi Toh Party Shuru Hui Hai
After the formal meeting, everyone went in different directions to enjoy the recreational activities. While some dived into the pool, some formed groups to play cricket and football, while the others just strolled around the resort to enjoy the evening breeze and take reels.
At 8 PM sharp, the DJ party started. I don't think any words would justify the fun every Beinexians had. From the Managing Director to the newest member of Beinex, everyone joined on the dance floor and just grooved.
All I would like to say is that we Beinexians love to party hard as much as we work. How can I forget to mention the yummy food served at the resort? We were served a variety of local as well as international cuisines for all three meals. There was also tea/coffee accompanied by snacks in between sessions and in the evening.
Goodbye! See you soon!
It was a bittersweet moment the next day while bidding goodbye to our newly formed friends. The workcation had ended, and we were all leaving for different parts of India and abroad. This workcation gave us a chance to bond personally, and these bonds will grow stronger when we get back to work.
Of course, there is no doubt we were already planning the next team meet :). Till the next workcation, these memories and the fun will be etched in our minds.
The initiative from Beinex to arrange team gatherings to de-stress from busy work life is commendable. This allows us to step back, connect with our teammates, enjoy the moment, and return with a renewed sense of energy.